Britain is in the grip of a childhood obesity crisis, with more than a third overweight by the time they leave primary school, according to latest NHS figures.

But in one primary school in Stirling, a head teacher has launched an extraordinary fightback, with a brilliantly simple idea that has transformed the lives of her pupils.

After hearing that children were exhausted by just the warm-up before their weekly PE lesson at St Ninian's Primary, Teacher of the Year Elaine Wyllie decided to take action, starting with a fitness test.

Elaine, 59, took one class out to the field, and asked them to run around the path that borders it. Many could only manage one lap.

But Elaine was not put off, and decided to trial her new Daily Mile exercise regime for a month.

"By the end of February 2012, the children were transformed," she says.

Realising its potential, Elaine was quick to include the entire school and nursery. Every child now takes part for 15 minutes a day on top of their usual PE classes.

"The children don't have to run the mile, they can run and walk – although most run.

"They are energised and focused – and not one out of 57 children in Primary One is overweight. The school nurse came running in and said this has never been seen before when they were measured and weighed," she says.

Elaine says the Daily Mile has been sustained because the children love it and so do their parents.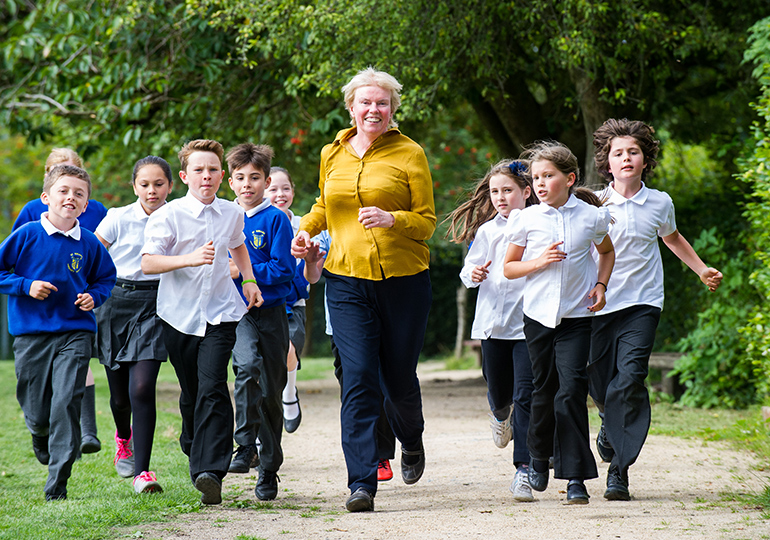 "It has been really well supported, and it would have to be," she says. "You could never keep this going against the wishes of the children, the parents and the staff.

"All the kids go out every day. It is so simple – they don't change, they put a jacket on if it is a bit cold.

"We have a school of 420 children aged three to 12 and they are as fit as they can possibly be. Wherever children are, you could do the Daily Mile. We all love it.

"Essentially, we don't over-complicate it. We just go out and run, then get back to class and carry on. It is completely inclusive. We have one or two children with mobility difficulties and they still do it."

Elaine has presented the initiative to medical experts at the annual forum of the Institute of Healthcare Improvement and the British Medical Journal in London under the 100 million healthier lives project.

Thanks to the remarkable results at St Ninian's, other schools have taken notice, and her Daily Mile is starting to spread across the country.

The initiative has seen Elaine named Teacher of the Year at the Pride of Britain Awards.
There is an obesity crisis, and Elaine's Daily Mile could help solve it.  She had such a simple idea, but it's brilliant.  it could transform kids' health across the country, and potentially save the NHS billions.Jason Leonard, former Rugby Union star